TIP-ON BLUMOTION for LEGRABOX
Imagine LEGRABOX drawers that open with a light touch and close silently and effortlessly. With TIP-ON BLUMOTION for LEGRABOX, we've combined the mechanical opening of TIP-ON, LEGRABOX's smooth running action, and the reliable soft close of BLUMOTION. This simple to use technology, makes creating sophisticated handeless designs easier than ever.
TIP-ON BLUMOTION (2.43 MB)
Product information:
Wide range of drawer lengths from 11" - 24" (270 to 600 mm)
Four sets available for standard and heavy duty applications
Dynamic load capacity of 88 lb and 155 lb
Assembly and adjustment:
TIP-ON BLUMOTION for LEGRABOX is simple to install. The components can be assembled tool-free, and it uses all of the same boring positions as a standard LEGRABOX cabinet profile.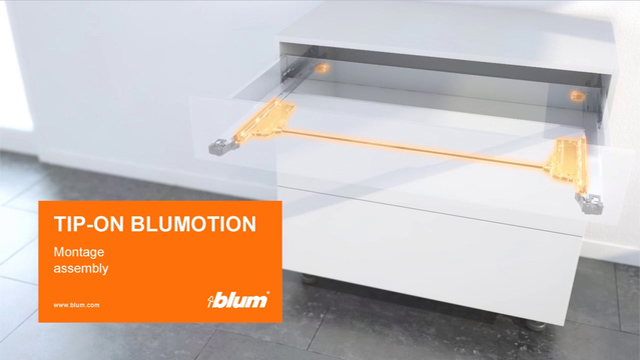 Benefits at a glance:
100% mechanical motion
Minimum front gap of 2.5 mm
Simple tool-free assembly
Four-dimensional adjustment