SERVO-DRIVE for AVENTOS
SERVO-DRIVE for AVENTOS
AVENTOS lift systems can now open doors with just a light touch - and then close them again with the press of a button. An inspiring feature that is certain to impress, thanks to SERVO-DRIVE for AVENTOS, the new electrical support for lift systems. Discover for yourself how easy the opening and closing of doors can be.
Product information
Same drive unit for all AVENTOS mechanisms (HF, HS, HL)
Drive unit with adapter plate for AVENTOS HK mechanism
Integrated collision protection
More pictures of SERVO-DRIVE for AVENTOS
Set-up and troubleshooting
The documents and video below will assist you in installing and operating SERVO-DRIVE for AVENTOS.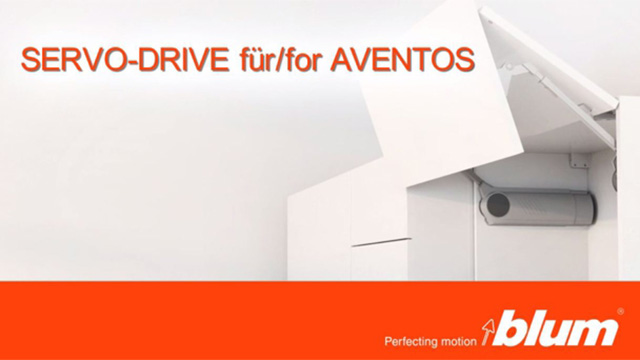 Benefits at a glance:
Easy to open with a light touch of the door
Easy closing by pressing a switch
BLUMOTION soft closing action