TANDEM
Universal - practical - smooth
TANDEM - A feather-light glide a furniture lifetime
The TANDEM concealed runner system for wooden drawers has a feather-light glide and brings enhanced user convenience to the entire home. The comprehensive TANDEM programme has the right solution for every item of furniture. Even heavily laden pull-outs have a feather-light glide and extremely good sag values.
And for handle-less fronts there's SERVO-DRIVE combined with BLUMOTION for TANDEM.
Programme
Single and full extension
Nominal lengths of 250 - 750 mm
Dynamic carrying capacity of 30 kg and 50 kg
Optional side stabilisation
ORGA-LINE
TANDEM applications
More impressions of TANDEM
Fast assembly, easy fine tuning
Drawer assembly is fast and easy - either with the locking device or the hook and peg feature. And fronts can be adjusted without tools thanks to integrated height adjustment. Full extensions also have integrated tilt adjustment for easy front alignment.
Blum assembly devices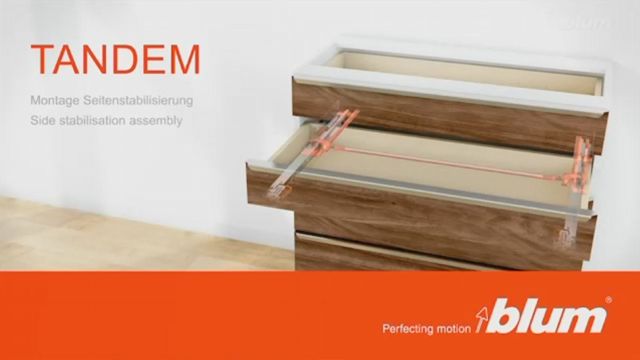 Advantages at a glance:
Feather-light glide
Soft-close BLUMOTION
Extensive programme